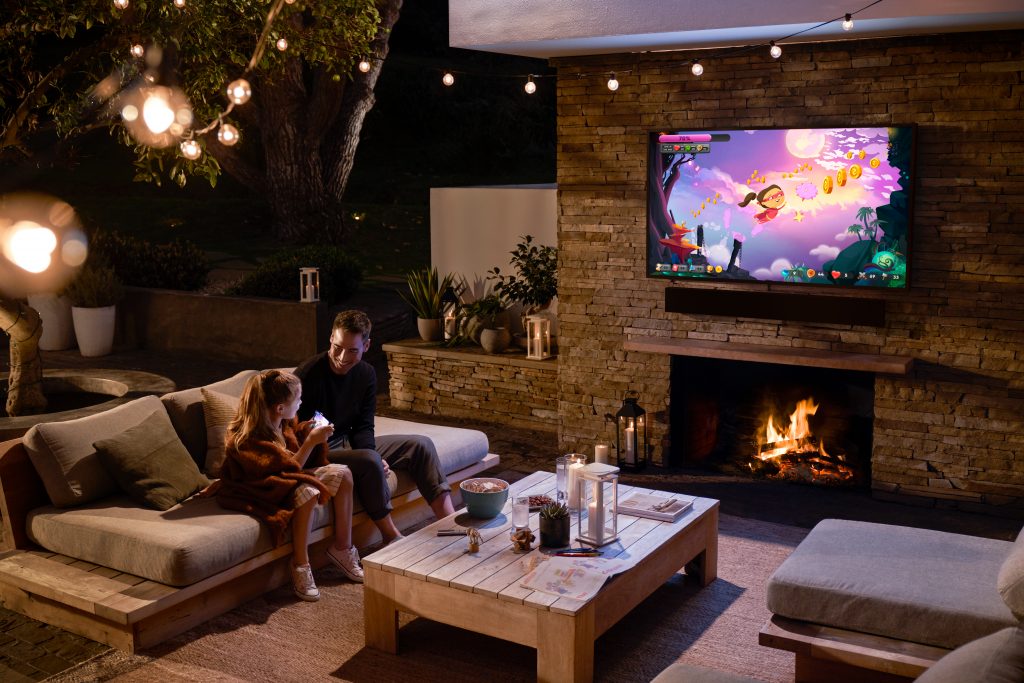 Samsung is now offering a free Napolean BBQ with the purchase of a Terrace outdoor television between April 9 and June 3, 2021!  How super cool is that!!!  The Terrace is one of the most popular outdoor televisions for a reason….  Samsung produces quality products, but the Terrace outdoor smart TV is in a league of it's own.  This weather resistant outdoor television ensures your outdoor entertainment centre functions safely and reliably through all the elements while providing the quality AV experience you've come to expect from Samsung.  It's quite simply a must have for every patio this year.  Terms and conditions for this promotion are below ~ order yours now to ensure you get your TV and BBQ in time for mid-summer movie nights and Sunday football fun.
TERRACE KEY FEATURES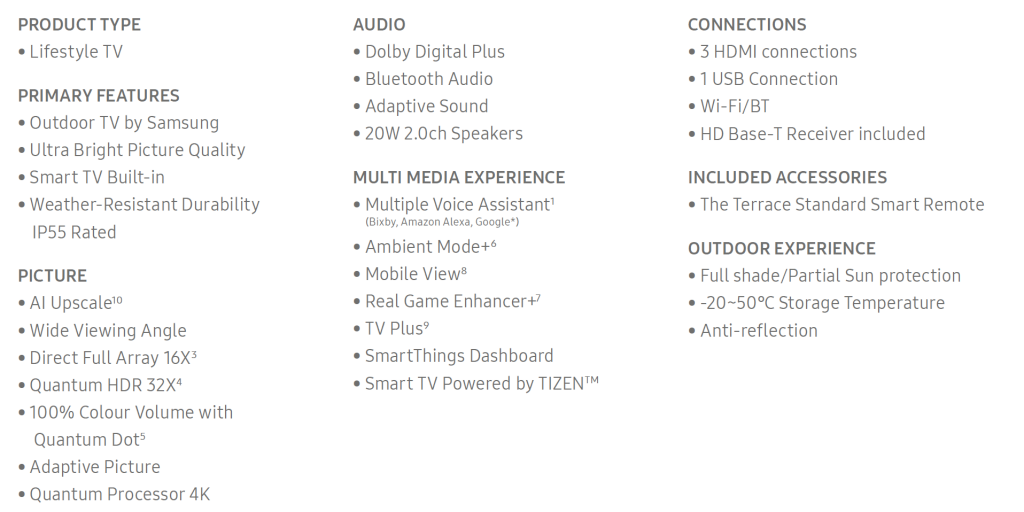 TERMS AND CONDITIONS
In order to qualify for your bonus Napoleon BBQ, purchase of an eligible Samsung TV must be made from April 9th, 2021 to June 3rd, 2021 (the "Promotion Period"). Eligible Samsung TVs are as follows:
Receive a Rogue XT RXT425 Napoleon BBQ (MSRP $949) with the purchase of the following Samsung TV: QN65LST7TAFXZC and QN75LST7TAFXZC model
Receive a Rogue XT 525 SIB Napoleon BBQ (MSRP $1249) with the purchase of the following Samsung TV: QN75LST9TAFXZC model.
The choice between the propane or natural gas Napoleon BBQ for Rogue XT RXT425 model (either RXT425PSS (propane) or RXT425NSS (natural gas)) or for Rogue XT 525 SIB model (either RXT525SIBPK-1 (propane) or RXT525SIBNK-1 (natural gas)) is at the customer's discretion at the time of redemption.
Proof of purchase is required. Any purchases made after June 3rd, 2021, will not be eligible for the bonus Napoleon BBQ. Purchase from an authorized Canadian retailer the eligible Samsung TV to receive a bonus Napoleon BBQ mentioned above. Authorized Canadian retailers may vary. While supplies last. No rainchecks. Offer is open to Canadian residents only. Limit one (1) gift per customer per TV purchased. Offer has no cash value. Offer subject to change or cancellation by Samsung at any time. Please allow 4-6 weeks for delivery of your TV in order to complete your online Bonus Napoleon BBQ registration form
To receive your Bonus Napoleon BBQ, a Samsung Account is required. If you don't already have an existing Samsung Account, setting up a Samsung Account is free. To set up your Samsung Account, go to http://www.samsung.com/ca/samsungaccount/.
Following completion of your Samsung Account set-up process, please register your purchase of an eligible Samsung TV by following the process set out below.
How to register you Samsung TV:
STEP ONE Sign up or Log in to Samsung Account: http://www.samsung.com/ca/samsungaccount/
STEP TWO Ensure your address is entered in full and your contact details are up-to-date under My Account
STEP THREE Register your eligible Samsung TV under My Products, by including all required information such as a serial number
STEP FOUR Find the bonus Napoleon BBQ offer under My Offers and submit a claim by completing the online form in your Samsung Account.
STEP FIVE Attach the copy of the invoice in your online submission in one PDF or JPEG file.
Note: As part of completing the product registration process for your eligible Samsung TV, you will be required to SCAN your ORIGINAL invoice and upload it with your submission. Samsung reserves the right to ask for an ORIGINAL invoice and additional documentation in the event of any discrepancy or dispute and for identification purposes prior to fulfilling the redemption.
Samsung must receive all submissions no later than August 31st, 2021.
If you return your eligible Samsung TV mentioned above to the participating retailer, you will no longer be entitled to the bonus Napoleon BBQ.
Samsung takes no responsibility for lost, misdirected, or delayed claims. Incomplete or illegible request forms may delay fulfillment of your request. All submissions require you to provide your product serial numbers. Samsung UHD TV serial numbers are located on the back panel of the TV.
Once your claim has been verified and approved by Samsung, you will receive an email confirmation that your claim has been accepted and that your qualifying Napoleon BBQ has been shipped to the address provided in your Samsung Account. Please allow 5 to 7 weeks for your Napoleon BBQ to arrive from the time you receive the confirmation email. Propane tanks are not included with your bonus Napoleon BBQ and must be purchased separately.
Napoleon BBQ warranty information is available on www.napoleongrills.com. Samsung is not the manufacturer or guarantor of the Napoleon BBQ and assumes no liability in connection with the use or misuse of the Napoleon BBQ. If you have any questions or concerns about your bonus Napoleon BBQ, please visit http://pages.samsung.com/ca/promotions.
If you have any questions regarding your Napoleon grill after you have received it, please contact Napoleon Customer Solutions directly at 1-866-820-8686 or grills@napoleonproducts.com
Samsung is committed to protecting your privacy. We will not use or disclose your personal information for purposes other than those for which it was collected without your explicit consent as required by law. To view our privacy policy, visit http://www.samsung.com/ca/info/privacy.html.
© 2021 Samsung Electronics Canada Inc. All rights reserved. Samsung is a registered trademark of Samsung Electronics Co., Ltd. used with permission.