It's an unfortunate reality of our times, but the truth is that we all have to be diligent now about our security.  Not only that for our home and it's contents but for our loved ones also.  Sadly, Covid-19 has substantially impacted many industries, leaving many people without employment or income.   This has created an environment of desperation for many.    Concerning headlines shout "Downtown core sees biggest crime changes after COVID-19: Vancouver data" and "Business break and enters spike by 562% since COVID-19".  Now more than ever, it is imperative to ensure you have adequate security measures in place for your homes and businesses.  Leading Edge Entertainment is the service provider of choice for Abbotsford Home Security.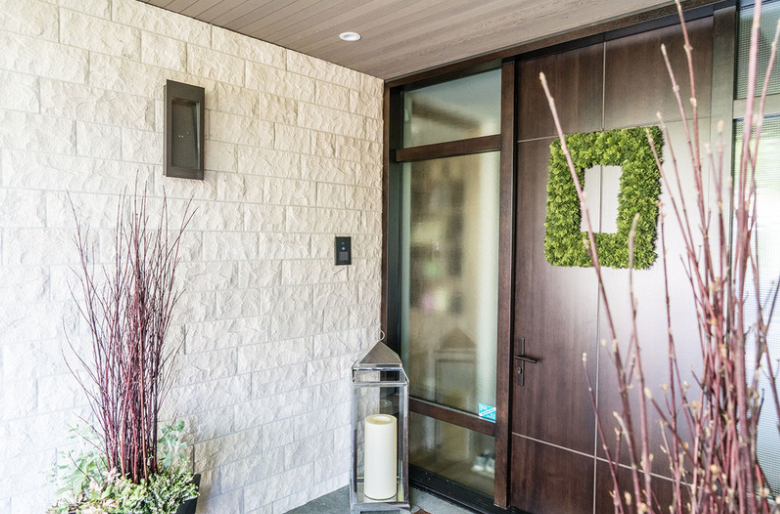 We are experienced security specialists and offer security solutions for every need and budget.  We can set up security cameras for the perimeter of your property, alarm your doors and windows, install intercoms and doorbell cameras at your front door….nowadays there are so many different options to choose from to secure your property, home and business.  Technological advances allow us now to monitor our spaces from the convenience of our phones, or lock doors and shut garages from them long after we've left and gone to work.  It's really quite amazing!  Further, beyond being "smart", they are now designed to be aesthetically pleasing and blend with your decor or so small they can be hidden altogether.
There are so so so many options for home security – mix and match the elements you want and how you want to access or use them.  Below are some of the super cool features of the security products we can offer:
OCCUPANCY SIMULATION
In the "olden days" people used to put their home's lights on timers to make it appear that there was someone home. However, the predictability of timers allowed burglars to know when a home was vacant. Today's systems are much more complex because they are able to mimic your family's behaviors and schedules by turning lights, TVs, and music on and off in a more believable fashion. To anyone on the outside of your home, it will appear that you're home, watching your favorite shows and roaming around the house.
REAL TIME CONTROL OF YOUR HOME
Whether you are at work, out for lunch, running errands, or on vacation—you'll be able to remotely check on your house and communicate with all your entry points via your mobile device. From front doors to side doors, garages, gates, and everything in between, you will be advised if an alarm goes off or if a sensor is tripped.  You can also receive email or text alerts if moisture is detected in the basement or if an off-limits cabinet has been opened. How cool is that?!  With a more comprehensive smart security and automation system, you'll be able to confirm security settings, check if any doors and windows were left open, or see in real time who disarmed the alarm or opened the garage. There's peace of mind knowing what's going on in your home when you're away.
VISUAL MONITORING
Cool new surveillance cameras can detect and notify you when something goes missing. Crazy right?!  Perhaps it's an expensive clock displayed on the mantle or your new car in the driveway….no matter what it is, if the camera detects that something has moved and not been replaced after a designated period of time, it will log the event and/or send out a message.  No questioning any more what was or wasn't there!
Security cameras are commonly used in most new homes these days, but you can also use cameras that are built into intercoms or touch screens to monitor and communicate with just about any room of your house. If you're in the living room and want to know what your kids are up to, then you can check in from your network-connected TV or touchscreen. If you're out, you can always check their rooms from your phone.  With these smart systems, if something is amiss you can take action whether you are home or away.
CONTROL YOUR HOME FROM NEAR OR FAR
Not only can today's security systems send messages to you, but it can also receive incoming messages from you! Is some random stranger wiggling the back doorknob? Remotely turn on the back deck lights and speak out over a two-way intercom to scare them off.  Is your teenager getting home late from a night out with friends?  Confirm their return and remind them to lock up as soon as they are inside without having to leave your bed.
You can alter the settings of your home security system from your phone or tablet, just as though you were at home.  If you forgot your kids get out of school early today or your mom stops by unexpectedly with a fresh baked blueberry pie, use your phone to unlock your doors for them. As well, when your neighbor calls you to say your garage door was left open after the kids left to school, you can close the garage or lock the front door from your device too. You will never have to wonder or worry about who got out last or whether they closed or locked anything any more!
KEEP AN EYE AFTER NIGHTFALL
Night vision is handy so you can monitor your door if/when movement is detected.  Save yourself nervously getting out of bed to check around the house with this additional element of security.
VIDEO HISTORY
Curious to see what happened? Use your phone or table to access video recorded when someone pressed the keypad, or when motion, noise or tampering has been detected.
HIGH TECH INTERCOMS
Install a high-tech intercom that provides access control and allows you to easily interface with other systems, achieving even higher site security. Available with night vision, a fingerprint reader (so cool!), Bluetooth module, or touch display.
As the leader in Abbotsford Home Security, we pride ourselves on giving you all the options available and then narrowing down the list to what would suite your needs best, highlighting the pros and cons of each option.  Once the installation is complete, we ensure that you have access to your system from all the devices you and your family members might use and show you how to use the systems and all their functions.  Easy peazy!