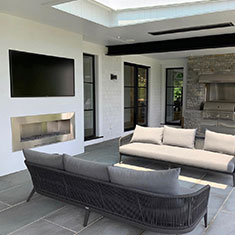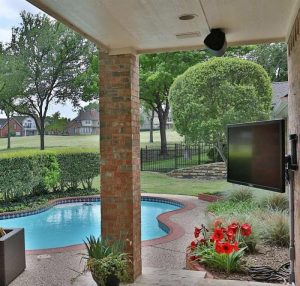 SunBriteTVs are the only time-tested TVs in the world that are specifically designed and built from the ground-up for the outdoor environment. These true all-weather outdoor LED TVs deliver superior brightness, while resisting the harsh effects of rain, dirt, insects, extreme temperatures, and UV rays. Most models are engineered with extra-bright, anti-glare LED panels to optimize outdoor viewing. SunBrite televisions feature powder coated aluminum exteriors that protect the internal components from the damaging effects of rain, snow, dirt, and insects.
Weather-proof materials are used in every component of SunBriteTVs. Stainless steel and galvanized metal parts are used throughout the TV to resist the corrosive effects of water and humidity. Protective gaskets, stripping, and grommets are specially selected to resist the harmful effects of salt air and sunlight. All models utilize an innovative watertight cable entry system and cable pass-through design that protects the cables and inputs from the elements.
4K UHD Outdoor TV
Which is the brightest outdoor television? SunBrite's new Signature Series outdoor televisions feature a commercial-grade 4K UHD high-brightness (700 NIT) screen with direct LED backlight and anti-glare technology offering ultra-bright, dramatic picture detail with 4 times the resolution of full HD. SunBriteTV Veranda Series models also present a premium 4K UHD screen with direct LED backlight – a screen up to 30% brighter than indoor TVs for improved viewing in outdoor environments. Our largest 4K UHD screen – the 84″ Pro Series – also features a tempered glass shield that protects the LED screen in active environments, while direct sun readable EST technology helps guard against isotropic blackout.
Isotropic Effects & Enhanced Solar Tolerance (EST) Technology (Pro & Marquee Series)
SunBriteTV developed EST technology to meet a need in the market for outdoor televisions installed where solar radiation may impinge on the LED screen for extended periods of time.
All LED televisions and displays have a characteristic where if the surface temperature of the LED screen gets to a certain threshold temperature then the liquid crystal will cease to respond to electrical signals. Areas of the screen at or above this threshold temperature will be dark and have no image. This is known as the liquid crystal's isotropic stage. Once the temperature of the liquid crystal goes below this threshold the display returns to normal operation. This phenomenon does not damage the liquid crystal or the display itself. More >>
Designed for use in Extreme Heat
SunBriteTV Signature and Pro series models are designed for permanent outdoor installation in extreme heat up to +122 degrees F (built for fully-shaded areas, Veranda models operate in temperatures up to +104 degrees F). All SunBrite TVs feature either active or dispersive temperature regulation systems. Active internal climate control systems consists of temperature sensors and a filtered multi-fan airflow system that quietly keeps the unit cool to provide protection and long-life to the internal components. This unique forced air system expels warm air and allows fresh air to come in, but keeps dirt, bugs, and moisture out. Passive internal temperature control systems consist of heat sinks and other means to transfer heat.
Anti-Glare Bright LED Panels
Those SunBriteTV models designed for full or partial sun feature anti-glare LED panels. Ever try to watch an indoor TV with the sun streaming through a window? If you sit close enough to the screen you can often see your reflection—like looking in a mirror. This is because most indoor TVs have a high gloss finish that enhances color performance. In the bright light of the outdoors, this reflective effect of the screen is greatly multiplied making it a challenge to see any picture at all. That's why SunBriteTV full and partial sun models are equipped with LED panels that have a high haze factor that help absorb the bright light, making them resistant to this glare.
Protective Front Screen
All SunBriteTV Pro Line models include a protective front screen. This special design ensures that the LED panel—the main component of the TV—is protected from potential damage. In the event that the impact is strong enough to damage the outer screen, the protective front screen can be cost-effectively replaced. This makes SunBriteTV Pro Series televisions the perfect choice for public venues (or rowdy backyards) where lessor TVs would be quickly damaged.
Resistant to Extreme Cold
Can I leave the television outside in the winter? All SunBriteTV Pro Series TVs feature built-in heaters that allow the TVs to operate at temperatures as low as -40 °F. Each TV has internal sensors that will automatically turn on the heaters and internal fans to flow warm air over the LED screen protecting it from damage. The TVs do not need to be turned "on" for this to work. As long as they are plugged in and are receiving A/C power, the heating system will work 24/7 to protect the screen from damage.
Powder-Coated Aluminum Exterior
All SunBriteTV Pro Series models feature powder-coated aluminum exteriors. The rigid aluminum outer bezels give these televisions a strength and durability rivaled by none. The powder-coated finish is specially designed to resist rust and corrosion. This feature makes the SunBriteTV Pro Series the default choice for public and commercial venues where extra durability is required.
True Outdoor Mounting Accessories
Can I use an indoor tv mount outside? Having a true outdoor TV that can last for years would be for naught, if the TV falls off of a rusty mount. And that's what could potentially happen if you would try to use indoor TV mounts for an outdoor TV. However, all SunBrite mounts and installation accessories use only stainless steel or specially treated materials, so you don't have to worry about your mount rusting away.
What Do I Need?
When considering installation of AV outdoors, it's important to ensure not just your tv but the components are appropriate also.  Many clients want quality speakers outside if they are going to the expense of putting a quality tv outside.  SunBrite carries outdoor-safe mounts, stands, speakers and dust covers to complete your outdoor entertainment sanctuary.
Contrary to popular belief, an outdoor TV is not just an outdoor TV.  See below to get an idea how each TV differs and is intended for difference placement / use.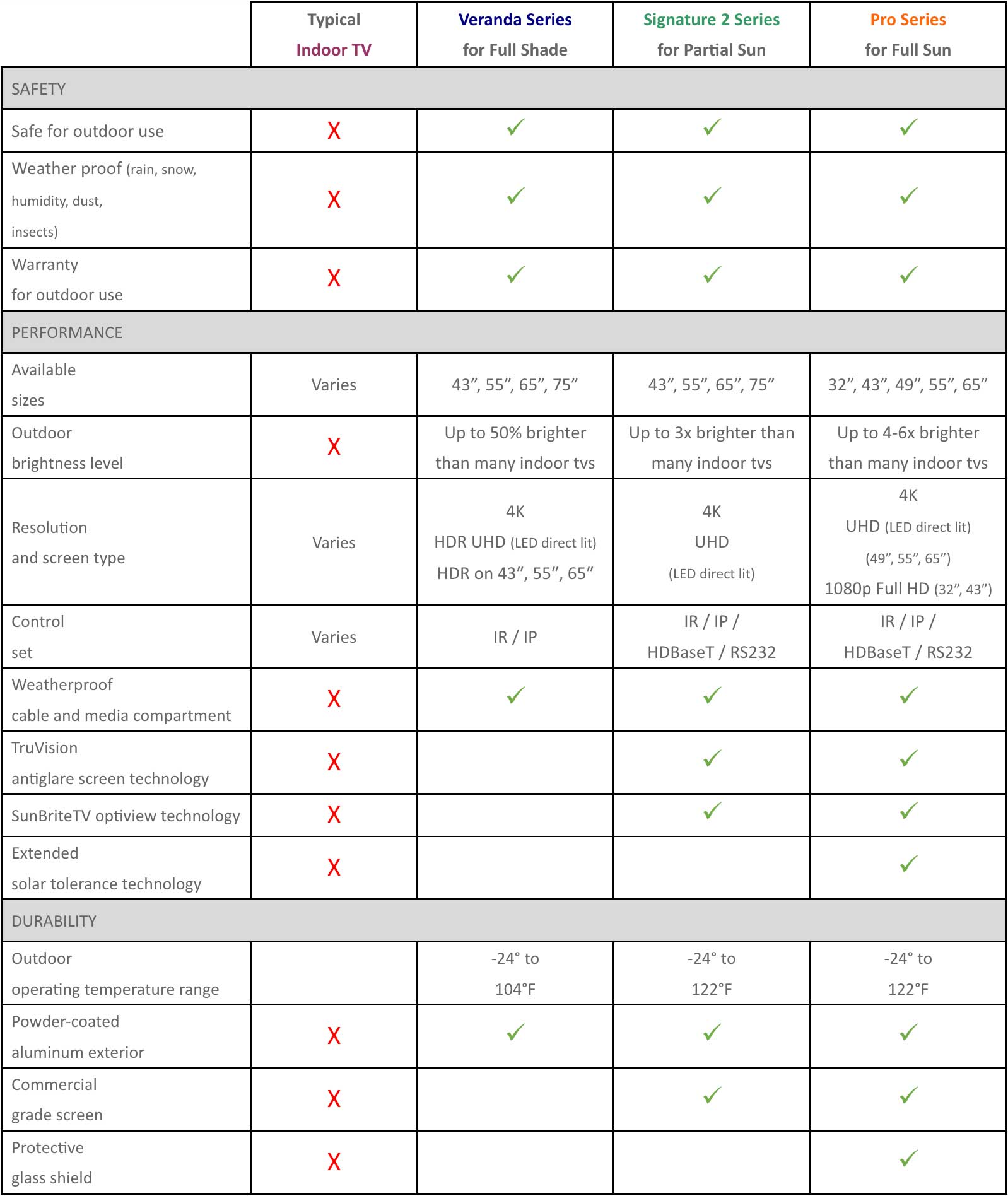 We look forward to helping you design your ideal outdoor AV setup, so don't be shy ~ reach out and let us help make your entertainment dreams come true!