Sonos says S2 is "a new app and operating system (OS) that will power the next generation of products and experiences". Simply stated, it is the technology necessary to allow users to enjoy all the new Sonos products and features in all their infinite awesomeness.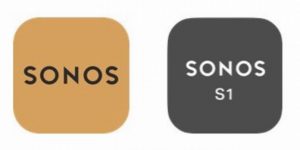 You can look forward to increased bandwidth and security, higher resolution audio, and "smarter" improved usability.  It's a platform that brings together
all your streaming, voice, and control services so you can easily browse music, radio, podcasts, and audiobooks and listen your way.  In addition to these exciting improvements, S2 offers a new feature 'Room Groups', which allows users to create groupings of particular zones that are often used together – for instance your kitchen and deck which are often opened up to use for open flow of guests in/out when entertaining.
The new Sonos S2 app and operating system is compatible with all Sonos products manufactured after 2015. Products compatible with the new S2 platform are: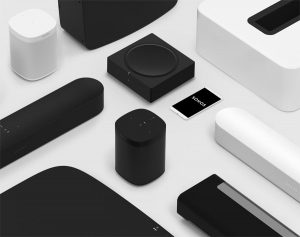 Play:1                                               Play:3
Play:5 (Gen 2)                                 One (Gen 1)
One (Gen 2)                                    One SL
Five                                                  Move
Playbar                                            Beam
ArcConnect (Gen 2)                       Connect:Amp (Gen 2)
Amp                                                 Port
Boost                                               Sub (Gen 1, 2 and 3)
Playbase                                         IKEA Symfonisk lamp speaker
IKEA Symfonisk speaker
Sadly, some of our oldest products don't support S2 due to their memory and processing power, and so won't be able to download the update.  Products that will not work with Sonos S2:
Play:5 (Gen 1)
All Zone Players (ZP80, ZP90, ZP100, ZP120)
CR200 controller
Bridge
Connect (Gen 1)
Connect:Amp (Gen 1)
If you're not sure which version you've got, go to the 'About My System' section of the Sonos app.
If you have a combination of products compatible with both S1 and S2, you can set up separate systems for them.   If you'd like to update to the new S2 app but continue to use your S1 Sonos products, you can split your Sonos system into two separate systems and control them both using two apps. The new Sonos S2 app will control your S2 products and the Sonos S1 Controller app will control your S1 products. Most people will not need to do this.
Before you decide this is the route you want to go you should consider the limitations doing so would present.  Each Sonos system is separate from the other and controlled with a different app on your phone. Because of this, it's not possible to group a product running S2 and a product running S1 together to play the same music. You will not see products running S1 in the S2 app, and vice versa.
For music services with single stream limitations, like Spotify, playback can only be initiated on one system at a time using the same music service. For example, if you begin playing Spotify on your S2 system, playing from the same Spotify account on your S1 system will stop playback on your S2 system.  Music from the same service can be played to both Sonos systems if you add separate accounts to each one. For some services, this includes different users under one account, like a family plan.
Services that support direct control (Amazon Music, Audible, Google Play Music*, IDAGIO, iHeartRadio, Pandora, Spotify, TIDAL) will show all S1 and S2 system rooms in their respective apps. For services with single stream limitations, playback can only be initiated to one system or room at a time.
Using the same voice service on both an S1 system and an S2 system requires two separate voice service accounts, one for the S1 system and another for the S2 system. However, this is not recommended as you will experience issues with both systems responding to commands simultaneously.
It is possible to use a different voice assistant on each system. For example, you can use Google Assistant on one system, and Amazon Alexa on another without the need for additional voice service accounts.
Although it is possible to downgrade your products to S1 after updating to S2, it is strongly not recommended.  Be cautious and be aware that an existing Sonos product running S1 software is required to downgrade an S2 product back to S1.  Important to note also, is that all settings and preferences will be lost when downgrading a product from S2 to S1.
It is suggested to split the S1 products in spaces that aren't commonly grouped with the rest of your system. In a family household, separating S1 products into their own system can also give Sonos control to kids or family members without providing access to the rest of the Sonos products on S2.
So, in short, there are many factors that have to be considered before you decide to say yes to the update.  Take your time and make sure you understand your options and the pros and cons!